The coworking juggernaut in India has had unprecedented success over the past few years. This rapid growth has been powered by the groundbreaking change to a more open, affordable and accessible coworking space in the traditional Indian workspace. Coworking itself had transacted around 2 million square feet of commercial real estate in the first half of 2019; well ahead of the 1.8 million square ft in 2018.
Through 2021, the industry is expected to grow 3X, which will lead to huge opportunities for the country's coworking sector. Coworking has now built itself as a fundamental part of the CRE leasing operation and as an autonomous full-fledged market, offering traditional office spaces a tough competition.
However, the rising entrepreneurial spirit, which also flows into Tier-II cities, is accelerating this tremendous development. It is projected that the Tier II markets will rise to 8.5 mn by 2020. Therefore, given the strong demand and momentum, it has been able to gain, it wouldn't be an exaggeration to suggest that the best is yet to come for a segment that is still in the nascent stages of development.
Over the years, coworking has witnessed many new trends and innovative activities fundamentally cooperative and versatile by nature like coworking spaces for rent. Fierce competition and ever-increasing demand have driven many leading players to put on their brainstorming hats to ensure continued market dominance and maintain value-added benefits for consumers. While some clear developments have been discovered over the past few years that have redefined the segment's future, we also expect the momentum to continue strongly in 2019.
Here are the top seven trends that we foresee will become the game-changes in the industry.
Coworking players handholding developers in interactions management
The business relationship between a developer and a provider of coworking space is now no longer confined to leasing the commercial space. Coworking spaces are not only going beyond setting up workspaces and collaborating with developers to allow them to achieve higher returns, but they are also handholding developers by marketing and selling other building floors to customers on traditional lease.
Related Post: How to Choose a Co-Working Space Wisely?
Coworking players are curating unique experiences and commitments to create tenants by providing state-of-the-art facilities such as gyms, cafes, creches and managing the entire building environment by providing occupants with partnerships, activities and community emphasis.
Coworking players trying to co-live
Expansion and market diversity is the secret to any company's sustained growth. While coworking space providers have successfully bridged the gap in Indian office spaces between supply and demand, this has now also spread to the residential real estate market where millennials are now becoming accustomed to the idea of co-living.
This is a perfect setting for engaging millennials when overcoming the conventional lodging issue with all-inclusive services and community events. While this is still untested waters, in 2019 we look forward to seeing more use cases and measuring their success.
Deeper technology integration
Despite wearable technology and AI gradually taking over coworking spaces and turning them into autonomous workspaces, the conventional desk is likely to be non-existent over the next three years. Intelligent access, intelligent meeting rooms and smart receptions have already been explored to allow cloud-based access, facial recognition and real-time security monitoring.
Related Post: What's Better? Coworking space vs Serviced space.
Digital assistants, AI-powered ambience, temperature control, and partnerships focused on the touch screen improve user experience. The laptop and smartphone will become obsolete as voice-activated systems, wearable technology including wearable glasses, embedded sensors, and Internet of Things (IoT)-connected wrist devices will take center stage and linking work professionals with fixed desks will become a past.
No flight, video technology and speed of networking would ensure real presence. In reality, artificial intelligence can confirm the shape, size and use of furniture as cumulative data per client.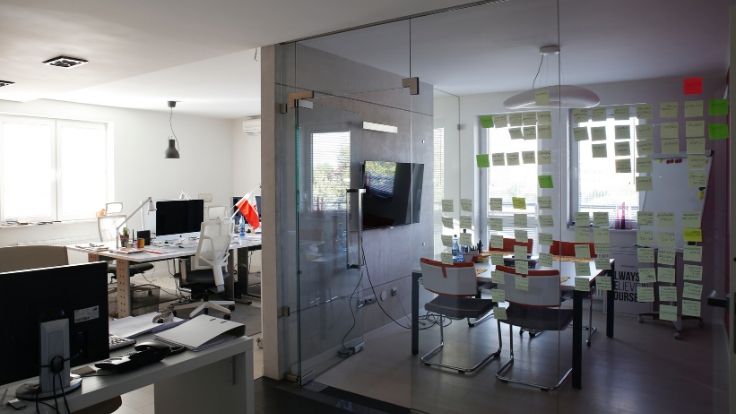 Rise of 'work near home' programmes
The number of people who prefer to live near their workplaces or vice versa is on the rise and "talk to work" is a phenomenon that is picking up rapidly in metro cities as it saves valuable man-hours instead of losing time to traffic congestion for hours while commuting to work.
Because of multiple locations, both inter-city and intra-city, coworking spaces are the option for reducing traffic hours and providing both personal and business benefits. Organizations have been considering the idea of allowing employees to "work from home" to provide more employee-friendly policies.
Due to intrinsic obstacles such as a, however. Home disruptions b. Right network unavailability (high-speed internet, printer, desk space) c. There is a significant loss of efficiency due to a lack of social interactions/peer to peer commitments. It causes more and more companies to consider "work close to home"–enabling employees to work remotely out of shared spaces while accessing efficient office infrastructure.
Related Post: 7 must-have amenities for Good Office environment
Adoption of flexible and mobile solutions
The number of transactions for "just-in-time" use of meeting rooms and flexibility passes has increased three times over the past two years and is rising at a rate of more than 12 per cent per month for most games.
Today, companies are spreading across the country in various geographies and serving customers. As a consequence, it is not always realistic to plan and allow the workforce to work from a few central locations. The current workforce has to be spread geographically and on-the-move according to the job's demands.
Employees of Millennials and Gen Z are searching for versatility, mobility, teamwork and opportunities to help them work in real-time and untethered. Shared workspaces allow flexibility by providing solutions such as national passes, roaming and bulk meeting room hours to work out from any place at any time, without any reservation restrictions and hassle. Digital offices support small town-based businesses looking to set up a business address or have a presence as their central business districts in larger towns/metros.
Holistic enterprise solutions
Shared workspace providers are working together with running the co-working company to create and manage separate offices for companies. The process starts right from finding an appropriate space for constructing, customizing and providing complete back-end support for office space software and operations. This is a trouble-free way for a company to outsource their "own" office space to plan, build and manage, enabling them to focus on running their business rather than their office.
Platform for collab
In addition to providing real estate options and trouble-free leadership, coworking spaces also provide an ideal platform for participants to exploit business opportunities. The connections are smooth and alliance plentiful with so many different businesses sitting next to each other. Collaboration also often takes place between the coworking space provider and the consumers sitting inside by retailing and selling products and services. Customers receive real-time feedback from the larger community and a chance to test the market with varied demographics.
The change of the workplace has started in earnest and will see some big changes in the next 5-7 years as the lifestyles of people develop, technology advances are taking place at a fast pace, office commute times are growing, and safety and well-being are at the center of attention. This will place the office worker at the forefront of all options for office space.
Finding office spaces on rent for just a few hours has always been a tedious task. Myrsa will help you make this process easier. Find office spaces on rent on a temporary basis on Myrsa.
You can even rent your empty office spaces for a few hours on Myrsa.