The food industry is growing massively in India. Food Truck is the next big thing in this industry as it is trending nowadays. The large vehicle loaded with tons of foods and a variety of cuisine from Chinese, Italian, and Fast Food etc. that grabs the attention of people. But starting a food truck business and running it successfully is a big challenge. As there are specific zoning regulations in each town, city, state, and country and you need to park your food truck according to those regulations. Is finding the perfect space to park your food truck a big problem?Myrsa can resolve this problem as we can help you to find the Prime
locations for your food truck parking.
Do not park your Food Truck here
Never park your food truck in a No Parking Zone.
Don't park your vehicle on the spot you have not paid the rent. You may have to pay fine.
You shouldn't park your food truck facing the street it should always be facing the sidewalks.
You shouldn't park your food truck near the restaurants. You might be breaking the law and also park your truck at a specific distance from the restaurants.
Never park your food truck in someone's private property without the owner's permission.
Finally, you shouldn't park your food truck near Fire hydrant, Bus stop or Crosswalks.
Where to Park your Food Truck
Park your food truck near large office buildings or downtown areas like school, college, parks, shopping centres or a place where you can target maximum Customers.
Park at a festival or event. You will get a great boost to your business and also a great following to your food truck
Set your food truck at the business or office park because the office workers are always looking to try something new
Related Post: Your space is your leverage
Prime locations for your Food Truck parking
1.On the street
Street parking is one of the best places to start your food truck. However, finding a great spot for street parking is not that easy as it sounds. You will have to think about your target and then find a perfect location. For example, if you wish to start a food truck for ice cream then parking spots near the school and shopping centers can be used. So you need to think as per your target audience where you want to park your food truck on the street.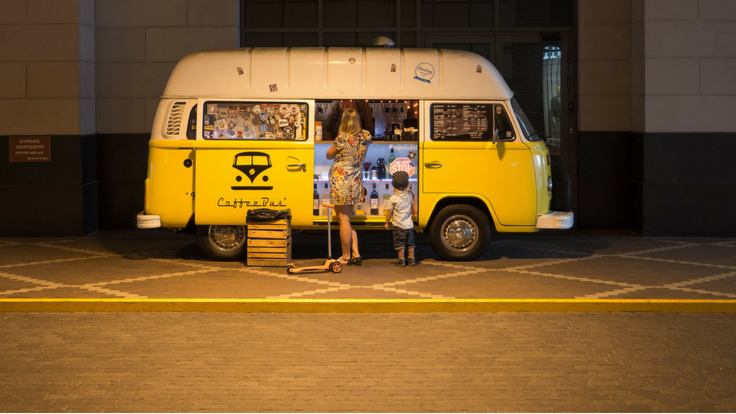 2.Food Truck Parks
You must be thinking that parking your food truck near another food truck might not be that great. However, parking your Food Truck in an event or at some place where all the food trucks are parked might help in increasing your sale. As people like to experiment with new dishes they taste something from each truck so this space can really be helpful for food truck owners to boost their sales
3.Outside Business Parks
When you can't find a perfect street parking for your food truck then parking it outside an office or Business Park can be a great option with all the permissions taken to park. As employees of the office can reach you easily during their lunch break. You can also reach out to the companies and provide catering services and they will also be interested as it would be cost-effective, no maintenance required, and a fun option to provide food to their employees.
4.
At a Festival or Event
You can't miss the opportunities to sell at a Festival or Event. To feed the masses at the Festival or Event Food trucks are really convenient. You can present your Food dishes to a huge crowd of people and increase your following. You just need to park near the prime spot of the venue and you can catch a lot of coming and going traffic
How Can Myrsa help you?
Myrsa's policy of Temporary renting spaces can be of great use to you. Myrsa helps food trucks find temporary open spaces, open ground, vacant office park, parking lots etc. so they can grow their business. Finding a good venue for parking your food truck is now not so difficult. Just log in to Myrsa and book the best parking space for your Food Truck. Myrsa let space owners rent their space temporarily in no time and let the empty spaces get connected with the new food trucks in town.
After all, Myrsa is all about people meeting people!