Today's world is technology-driven, you think of anything and it is backed with IoT in some or the other way. With such a high demand for AI and IoT, even real estate sector is highly influenced.
Internet of Things (IoT) and Artificial Intelligence (AI) are the buzzwords in a technology-driven world, even real estate developer are deploying this to their upcoming properties to influence the home buyers Developers are working towards the automation of products to their new developments. Earlier due to the huge cost of technology such advantage could not be provided to the customers but now as India is also a technology-driven country so there is a reduction of cost factor even the deployment cost had gone down due to which application of IoT becomes smooth.
Real estate today is no longer confined to a brick-and-mortar structure with developers constantly looking for ways to offer value to their customers. It has evolved into creating a healthy environment for people to live, work and play, thereby improving the health and quality of life of households in India 
Wifi which is now the necessity of every house enable home automation products like video door panels, sensor-based light and video-based security and surveillance systems, automatic management of home appliances, air-condition, television, geysers and other such electricity appliances the entire home automation is controlled by a single application which is slowly becoming part of new development, especially in the metro areas.
MPower, a real estate management software has been working with developers and property managers to manage their multiple properties and thus it had influenced the business functionalities. 
Real estate industry completely runs on raw materials like bricks, cement, iron, steel and more. To understand the inventory, agents can keep track of the stock availability at the sites. Tracking of materials helps the real estate companies to avoid the unnecessary wastage of material hence cutting down the unnecessary cost on material and investing the money wisely. Such tracking of materials can be wisely done by IoT application.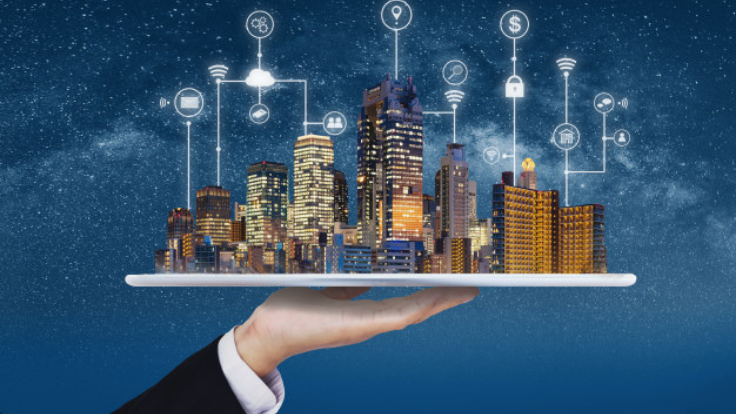 Not only this even the decision making also have great impact with the IoT usage better decision making can be taken by customers or property managers. The devices provide valuable information that realtors can leverage to improve sales. An in-depth, predictive analysis of the home serves as a "report card" of the property's value. Agents can provide this information to prospective buyers to boost their confidence while making the buying decision.Instead of wasting time by seeing the property multiple times for consideration, prospective buyers can use accessible, informed analytics to make quick and better decisions.
IoT applications will keep booming and molding the real estate industry in innumerable ways. When selling a home, agents ought to think about whether the home is IoT enabled or not for the offer. It will likewise be fundamental for agents to analyze how IoT innovation can enable them to expand their own activity proficiency and create leads.
Infrastructure flaws are not noticeable if a building is newly built. Though, all buildings will age and require attention for its maintenance. IoT helps developers give the assurance that buyers need before signing the agreement. The predictive technology will help tenants identify and address infrastructure flaws over time. By using IoT enabled sensors and real-time energy monitoring, tenants can track any inconsistencies that come up and schedule for maintenance automatically.
Even commercial real estate also see changes in its operations due to IoT usage. The devices connected make it clear who is responsible for the particular task. Due to such a system, last-minute changes can be made even so there's less confusion for workers regarding their directives. They can be designed to connect all of the major systems in the facility. like HVAC , lighting, etc IoT can show how the building's units function as a whole.
Leveraging IoT applications in commercial and residential real estate can lead to cost savings through better operations. This works more apt when the managers have all the operational data with them this further helps to make changes to reduce pressure on their equipment. Such in-depth reports lead to less maintenance and replacement costs. 
Commercial tenants can also use IoT to improve their businesses with property management software which led to greater efficiency and employee satisfaction, tenants may raise their business' profile and potentially the profile of the area through IoT. Building owners can't mandate certain technology upgrades for their tenants. However, they can educate tenants to the power of IoT for better business benefits 
Real estate has always been a lucrative option for investors. However, technology has begun to change the expectations of commercial real estate, and it's likely to keep growing on this path. Owners and investors who understand how the advancements of today will impact the profits of tomorrow stand the best chance to sustain in the future.
IoT has already begun to increase efficiency in construction, building management, home buyers and tenant satisfaction. such capabilities and IoT features will continue to grow and adapt to new building needs in the future.