Looking to create a fun shopping or pop-up experience? It can be a challenging challenge to find the right room with so many unknown variables — and one of the first important questions that will arise is, "How much does it cost to rent a store in the mall? "You know that temporary shopping interactions are all about finding the right location for consumers to get involved with their product or service. Many malls, however, make you go through hoops to find out the prices for the best stores open.
We also gathered details about what rental spaces are to be sold at the mall, as well as an estimation of what it costs to rent one. We'll also be offering several alternatives to mall rooms, including chic cafes, vibrant art galleries, and more.
Why do the people in the mall rent out stores?
While shopping centres aren't as popular as they once were, shopping centres are still a place for shoppers to visit their favourite stores and find new ones. There are several reasons why anyone in the mall would like to rent a store — whether it's opening a boutique, offering facilities or entertaining.
Another growing area for malls and other rental spaces is the pop-up shops and shopping experiences. Companies are trying to develop exclusive products that aren't like a typical brick and mortar shop. These short-term events will provide brands of all sizes and budgets with an opportunity to move into a physical market in a city or region that they have not yet had a presence in.
Related Post: 8 Tips To Grow Your Seasonal Retail Business
The temporary shops can generate exciting buzz on social media and draw new clients to your company. Besides mall rooms, to give your pop-up a different flair, you can also try other exclusive rental rooms like cafes, art galleries or trendy shop fronts. Later in the article, we'll have some fun tips to give you an idea of what's out there beyond space in a store.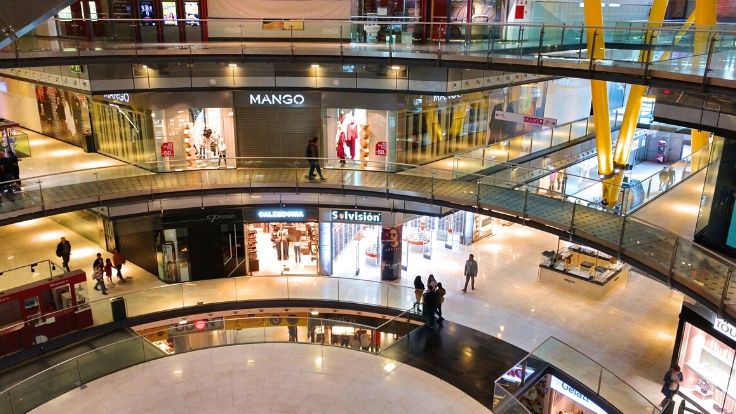 How much does it cost to rent a store in the mall?
Retail real estate now in Mumbai is the most expensive, followed by New Delhi and then Bangalore. Rent is calculated on the basis of the floor the store is situated on. The ground floor demands a premium as a rule of thumb and is typically the most expensive. This is only leased to established retailers on the regional and national level. The first-floor rent is about 20-25 per cent lower than the ground and the second floor is about 30% lower than the first floor.
You can expect an average mall rent (averaged over all floors) per SQFT per month to be around Rs. 170 (+ /- 10 per cent) for all Mumbai properties.
Many other malls do not disclose their pricing and only have square footage and other famous businesses in the surrounding area. Bear in mind that many malls will charge higher rents for being close to famous department stores or retail outlets such as Apple. Of course, you want the maximum amount of foot traffic, but in a shopping environment, it certainly would cost you.
Related Post: What is Location-Based Marketing?
How to rent a store in the mall 
It can be super challenging to find a retail spot for your pop-up — do you ever wish there was a place in your town that listed every option? Okay, luckily there is something exactly like that already! Rather than renting from a big mall, go local and rent from one of Myrsa's many hosts — find Temporary rental spaces near you
Myrsa has so many shops, restaurants and stores available for rent in dozens of cities across the country. Plus, rates and services are upfront and you don't have to go with various sales representatives from phone call after a phone call.
Additionally, Myrsa will help you narrow down what you're searching for with search filters for location and amenity. Check at the photo collection, see what kind of equipment is included in the rent and get in direct touch with the property's host.
Other factors to consider
Although cost is a major factor in choosing a property, you should also consider what kind of crowd you get at a mall vs. other retail locations. A shop close to famous bars, restaurants and things to do might be easier on your target market than in a dusty shopping mall.
Finding the response "How much is it costing to rent a store in the mall? "Can be time-consuming and wearisome. We hope we've helped you understand the cost of renting a store at the mall with some options that may better suit your needs.