With the comedy scene more popular than ever, an audience is hungry for spending their time and money on high-quality stand-ups. Whether that's selling out household name arena tours or smaller venues highlighting the new underground talent. If you're thinking about taking a slice of that comedy pie, but are new to promote, or just want some new ideas, we've produced this guide on how to put on a comedy night out.
Finding a Venue
You will be limited to some extent by budget and availability when it comes to finding the perfect venue, but there are venues out there for all kinds and sizes of comedy shows –you just have to find them! The first step is getting to know what to look for.
Location: Make sure the venue is central and with good transport links. Even the most breathtaking building, if it is a mission to get there, will not sell tickets.
The venue: Then anything goes as long as the venue facilitates entertainment shows. Having said that, when booking a comedy show venue, there are certain specific things you should think about. It is necessary to set up the room itself so that the sound reverberates around the room, in particular looking for venues with low ceilings and brick walls. This means emphasizing the sound of laughter and applause, making your audience feel less self-conscious and more likely to be throwing themselves into the show.
Facilities available: Most importantly, there should be a dedicated performance space at your venue, anything from a theatre to a function room in a pub. Try and find a venue with a Green Room to prepare the comedians. Whatever the popularity of your acts, they will probably not appreciate sitting with their audience outside.
When you book a venue, be sure to discuss whether the hiring fee is based on a direct booking fee or a share of profit. Some venues demand a fee to hire the room and make up their money from the sales of food and drinks. Other venues prefer a profit split, where a percentage of ticket sales are taken. You should make sure you understand this from the beginning so that you avoid any surprising fees later on down the line.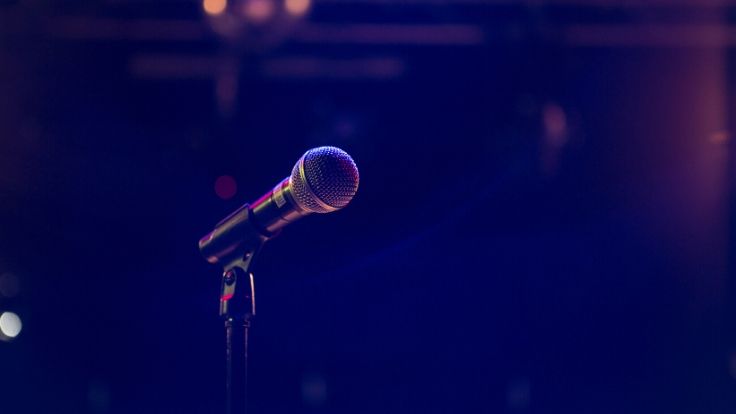 Equipment for a Comedy Night
Venues that have live music on a regular basis will likely have their own lighting and sound equipment, but it's always best to check what facilities they have. For a quality comedy show, the following equipment is required: –Spotlight and adjustable lighting–Microphones of good quality–Microphone stands–Raised stage or performance area–PA system–Music system
Once you have selected your actions, you'll need to check this list to make sure you've got all the resources they need for their actions. A double act, for example, would need two microphones and two microphone stands, and a musical comedian will need a vamp. Do the professional thing, and ask the comedian in advance of the show what tools they need.
Budgeting for a Comedy Night
Budgeting is an essential part of every event that you put on. You can easily make a loss before you even start, without knowing your budget. It's essential to know your breakeven point and help you with ticket pricing and knowing what you can afford for advertising and nighttime extras. There are several costs to remember including:–Venue hire–Driver–Vehicle hire charge for your plays
Related Post: What to consider when choosing a perfect wedding venue?
How to choose your comedy acts
You need great comedians to do a great comedy series. Planning your line-up carefully is key to the success of your show. Walk the circuit and see as many performances as possible–open mic nights can be a great way to provide a platform for emerging talent. If you're keen on a certain comedian, talk to them after the show and introduce yourself–putting a face to the name is always best.
Keep it interesting, and reserve a mix of acts. There are a variety of comedy types that you can mix to keep things interesting alongside observational comics like one-liners, but always ensure the content is good.
Note this is heavily influenced by the weekday when you pitch a charge for your plays. Thursday and Saturday nights are peak hours and therefore more costly, while Sunday through Tuesday nights are cheaper and comedians are more likely to be available and try a gig.
Planning
Setting out the venue
The trick to setting up your venue is to make sure your performances are the main focus of the evening and to make your audience feel at home. That can be done in several ways.
First, the comedian should be on a stage or raised platform, it is important for the audience to be able to see them from at least the waist. Comedy is all in the delivery so you want to make sure your audience is always able to read the body language of the comic.
Bad lighting can ruin a display. If your location lacks adjustable lighting, look for some to employ. Your comedian is supposed to be well lit but not blind. We should see their audience and should be able to read their responses.
Your audience ought to be in the dark. It makes them feel less aware of themselves and more likely to dive into the evening.
To create an intimate and relaxed atmosphere, seats from the front should always be filled in first. Blank tables and chairs do nothing to maintain the confidence of a comedian or an audience.
Related Post: Why New Generation Prefer Renting Over Buying A House!
Marketing & Promotion
Without a great crowd, a comedy show is nothing. It's your job as the promoter of the show to make sure everybody who might be interested knows when and where your comedy night is going on.
Whatever your budget, there are a number of ways you can get your show promoted. Announce your show on social media at the very least, and create a Facebook event. Encourage people to share and invite friends; all of this helps to create a buzz around the show. Even the comedians can be great to share with their networks.
Build a flyer and poster that will catch your eye. There are illustrators out there who might be willing to design a poster solely for exposure or a small fee. Visit relevant events, and distribute the flyers once the show is over.
Talk to your venue about posting posters on your message boards, listing the event on the calendar of your website, and even selling tickets directly through the venue. If the venue shows other comedy shows there is even more chance of your target audience seeing your event.
Place your show on websites for free event listings, and contact the local press to let them know about the series. They can include this in a calendar of events.
Challenges and how to overcome them
How to hold back your crowd.
Use your previous ticket sales to build a mailing list, and give them new show information when they are revealed. Try to keep the activities down to the same night whenever possible. When you host a show on the first Tuesday of the month the viewers will soon start searching around this time for show announcements.
What to do if it throws out a comedian?
This scenario is very unlikely if you have picked your acts well, but never say never! To reduce the risk of this happening, make sure you have contacted your acts the day before the show, as well as check your emails and make regular phone calls throughout the show day. Don't panic if your act pulls out hours before the show. Check at what's left of your acts and working order. Speak to them about including an opening sketch if you've chosen an accomplished MC. Speak about headlining the show to your middle act. They're very unlikely to turn down the chance.
Technical hitches
The Scout motto's words: be prepared. At least make sure you always have a spare microphone at your fingertips. If your venue includes a sound and lighting system, it is more than likely they will be providing the evening with a technical engineer. Ensure that they have a list of the equipment that every act needs prior to the show.
Now that you are all set to start your comedy show. Find spaces for rent for your comedy shows on Myrsa.