Related Post: Essentials to Open a Dance Studio
Aerobic
Aerobic workouts are amazing and the most popular forms of exercise for a decade as Fitness spaces for rent are readily available. Dance is an aerobic exercise, conducted in a similar form as other aerobic classes. While the dance technique may differ, class structures are more or less the same. Generally, class begins with a warm-up session, which may go on anywhere between 5 to 30 minutes and involve exercises to raise your body temperature and flow of blood in the body, and stretch your muscles. The warm-up period will transform into a rigorous dance routine aimed to boost your heart rate and get you pushing and sweating, concluding with 5 to 10 minutes of cool-down exercises to further overcome and lessen muscle soreness.
Jazzercise
Jazzercise is a perfect dance-fitness routine and one of the numerous well-known dance workouts these days. These hour-long sessions mix jazz dance with strength training, as well as Pilates, yoga and also some parts of kickboxing, all set to today's popular music, from favorite Top 40 songs to country and everything in between.
If you are hunting for an upbeat and intense form of exercise, look for Zumba class locations, belly dancing, salsa dancing classes. Zumba is being taken as a profession by many people and evolving as fitness business ideas. Zumba, for instance, is a workout performed to a Latin beat. Such sessions will have you sweating to hip-hop and other vigorous and energetic music. It mixes calorie-burning cardio exercise with a core muscle exercise and interval coaching to maintain and help tone and sculpt your body.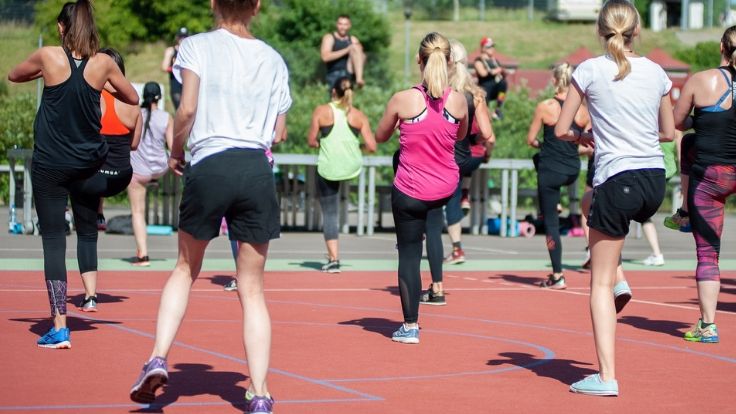 Yoga Classes
For people who are in search of a different type of intensity in their dance workout, watch for Yoga Trance Dance. Yoga Trance Dance is a free-flowing activity that mixes yoga postures, meditation, and free-form action leading into combined energy. Nia is another type of workout is made up of 52 movements that mix dance, martial arts, and remedial arts, and it manages your core muscles and upper limbs.
Ballroom Dancing
Ballroom dancing might not be the like the most vigorous and strenuous aerobic dance to do, but it is surely having lots of benefits. It is a reasonable activity and is promoted throughout the world. The only downside with this type of dance form is that you cannot simply do it alone, you need a companion. You need a partner for the purpose. Once you have discovered someone to dance with, you are certainly going to have a fabulous experience that is combined with exercise. This type of dance helps to tone muscles, burning calories, great for bones and increases confidence. So ballroom dancing should not be underestimated since its slow but works excellent as a form of exercise.
Related Post: The endless benefits of having Yoga Classes Near Me
Belly Dancing
Belly Dancing is elegant and fascinating. It developed from Arabic countries such as Egypt and Turkey many years ago. The name is totally western and is a single and solo dance style where body articulation is a must. There are various forms of belly dancing, and each one has its individual style. It does come under the level of aerobic dances and is practiced these days in fitness classes too. Reason of it becoming popular day by day it because of its host of benefits like it helps with a new experience and simultaneously improves your fitness level.
Dance-fitness classes are accessible for beginners, intermediate and advanced fitness levels. Just search on the web – "yoga class near me" or "fitness class near me", you will get loads of locations available around you conducting such dance classes. Some provide more of a workout than others. You can select the perfect dance style that suits you.We at Myrsa provide a platform to people looking out for temporary spaces for rent to conduct various fitness classes.